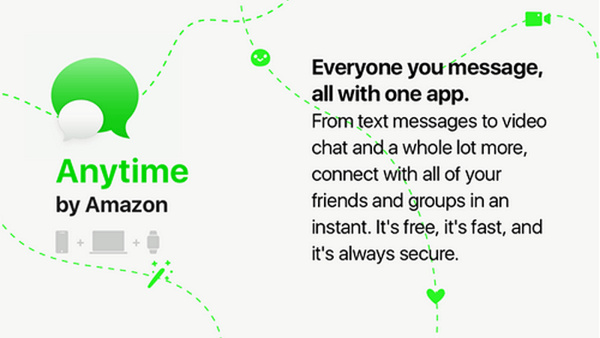 Two two most populous instant messaging platforms are WhatsApp and Facebook's Messenger. Well, one should say Facebook's WhatsApp and Facebook's Messenger.
Both of these platforms have over a billion users, with quite a bit of overlapping of course, so it is safe to say that Facebook is the king of the hill when it comes to personal online messaging.
There are a lot of options, though, that offer different kind of experiences. There's Snapchat, Signal, Telegram, Skype, WeChat, Viber, and then there's Amazon who apparently wants to enter this super saturated market.
AFTVnews reports
that the online shopping giant is testing user reactions to a new service in its latest survey. The questionnaire asks what type of features the users like in a messaging solution.
According to some leaked pictures the service, dubbed as Anytime by Amazon, is said to feature "everything you've always wanted in a messaging app," including private and secure messaging, group messaging with @mentions, multiplatform support, GIF-animations, and high-quality voice and video calls.
It is unclear, however, how far into development, if at all, Amazon are. It might as well be that Amazon is just probing the landscape and trying to figure out if there's room for one more WhatsApp.
Written by: Matti Robinson @ 18 Jul 2017 12:05