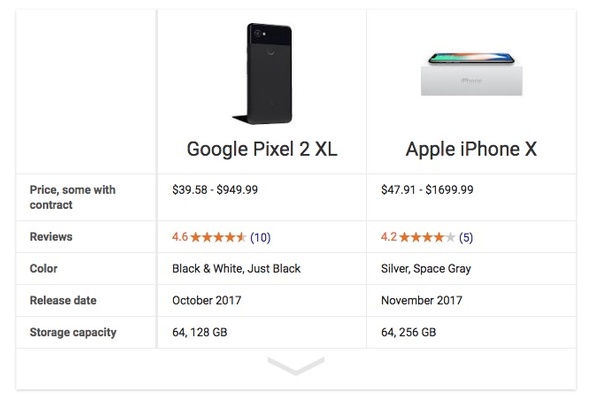 Google has added a new feature to its iconic search engine. Google does small, incremental changes to its search engine fairly frequently, and most of them are probably not immediately visible or easily noticeable to the wider public.
The newest addition is the ability to easily compare two smartphones and their specifications. The feature, added without much fuss, was spotted by
Android Police
, and seems to be currently online in at least to some demographics in the U.S., confirmed by AfterDawn as shown in the pictures.
It allows the comparing of two, and only two, devices against each other with a simple search of the two device names split by the word versus, or, as it's perhaps more commonly used, with abbreviation "vs." The Google search returns a form with pictures of the devices as well as a short list of features on the top of the search page.
You can then expand the list further and reveal approximately 15 fields worth of comparison, the amount of details depending on the devices.
We did notice a few issues with the new feature in addition to only limiting it to two devices. The search doesn't seem to require very specific names (i.e. Samsung Galaxy S8) to pull up devices but instead you can just type "s8 vs iphone 8" and you'll end up with an appropriate comparison between Samsung's Galaxy S8 as well as Apple's iPhone 8.
However, this doesn't always work as expected though, and, for example, "iphone 7 vs iphone 6" will for some reason result in a comparison between iPhone 7 Plus and iPhone 6s Plus, both of which are wrong, and the latter being both wrong size device and wrong generation.
The bugs might be partly because the amount of devices supported by the feature is very limited, and you can't find some of the older or even more recent but less popular phones, say the Nokia's this years flagship Android phone Nokia 8, at all. Also one has to note that iPhone X specs include a fingerprint scanner which is not the case in reality.
There are also strange differences depending on comparison. Comparing iPhone X to iPhone 8 show the screen resolution but comparing the former to Galaxy S8 doesn't – conveniently for Apple, perhaps?
However, at this point one should probably consider Hanlon's razor, after all the new search tool seems to still be in beta and being shown only to a selected audience. You can expect changes, improvements, and expansions in the coming weeks and months.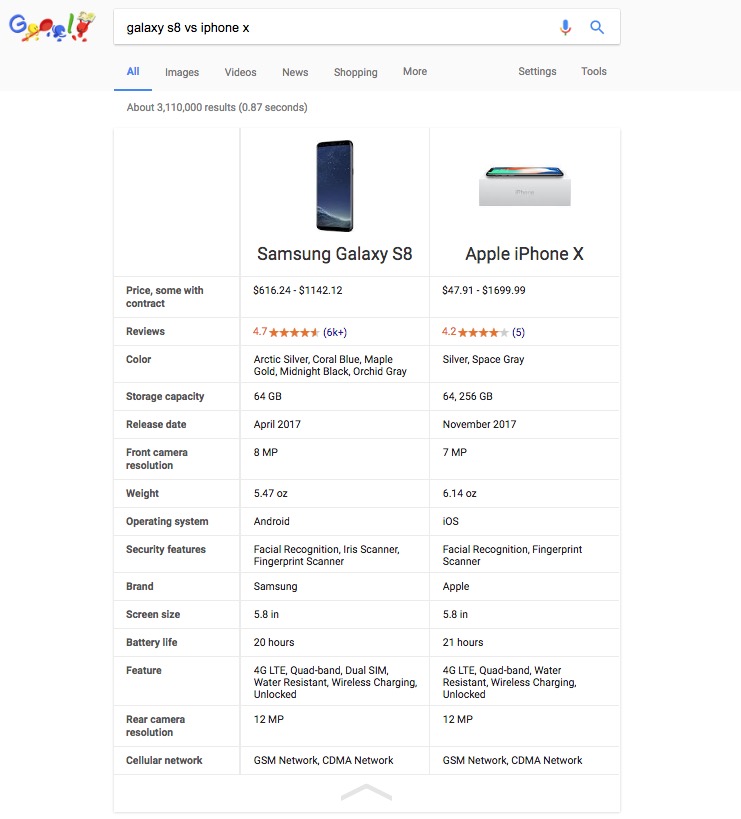 Written by: Matti Robinson @ 7 Nov 2017 16:36