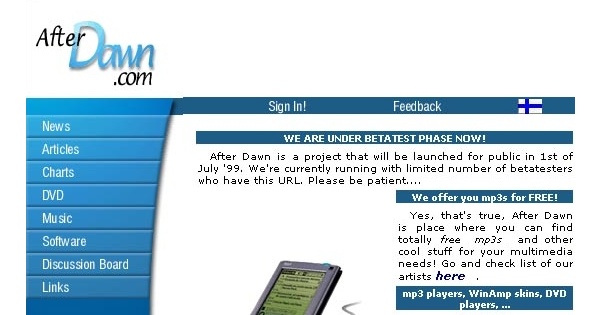 In our article series, we're digging into AfterDawn's news archive and looking what happened exactly 20 years ago. This article series also celebrates
AfterDawn's 20th anniversary
.
So, we're digging into our news archive and trying to figure out what was hot and what was not, back in October, 1999 when our site was only four months old. I'd like to remind you, our readers, that back then, AfterDawn was strictly focused on digital audio and video technologies and reporting events in those genres. More generic "all about tech" arrived to our site much later.
Our first ever stories about cell phones
As said, our focus back then, was strictly with digital audio and video. But the October, 1999 marks the first time in our history that cell phones were mentioned in our news. Looking at our
(and everybody else's)
news coverage nowadays and it seems that smartphones and related technologies are
the
thing that nowadays makes the headlines. Things have changed, truly.
Well, anyway, back in October, 1999 we published a press release from a Finnish mobile phone manufacturer. No, not
Nokia
. But another one, called
Benefon
. Company had just launched the first-ever GSM phone that had a built-in GPS navigation in it. Pretty revolutionary 20 years ago. It actually took several years until GPS navigation became a commonplace with phones.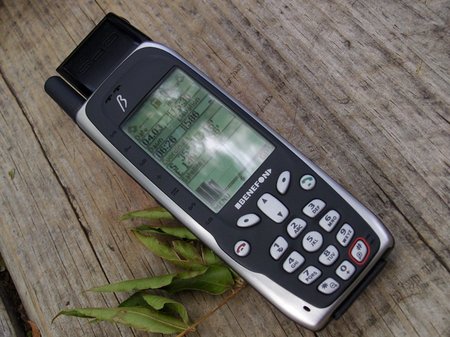 Benefon Esc!, picture from Wikipedia
The phone,
Benefon Esc!
, was water-proof and shockproof and was aimed for outdoors users. Navigation features were its main selling point, but the phone also had dual-band GSM chip for better coverage and weighted only 150 grams.
Looking back, while Benefon created some truly great phones, it was already struggling and losing market share also in its core markets. Company eventually changed its name several times over the upcoming years, stopped manufacturing phones altogether in 2007 and was shut down for good some years later.
Another cell phone-related article also appeared in our news in October, 1999.
Sony
,
NTT
and
IBM
were planning a platform for
mobile phones to be able to play MP3 music
. The idea was to enable phones to buy MP3s from operators' stores
(thus, NTT got involved)
and then store those tracks to a Sony
Memory Stick
, attached to a phone.
Sounds complicated? It probably was, too, and AFAIK, never materialized. The requirement to have a separate memory stick kinda made sense back then, as even the most expensive phones rarely had even a megabyte of free RAM available. Memory was mostly used to store text messages and contact details, as things like camera phones didn't exist back then.
Handful of artists release their songs to the Internet, for free
Now, it is important to understand that the late '90s and the early years of the new millennium was the era of the "Great Napster War". During this era, music industry started a holy war against the tech companies, trying to keep its music permanently out of the Net. To certain extend, music industry succeeded. At least for legal parts. All the various legal music services that popped up during those years pretty much failed to materialize, as music industry didn't either license their material at all or pricesd it too high.
However, some, very few, artists saw Internet as an opportunity to collaborate with their fans and even gain more fans. During those years, we reported such cases quite often.
Back in October, 1999,
Chemical Brothers
' latest music video had been banned from TV in the USA. Band then decided to
share the music video to its fans via the Internet
. So, they set up a download link on their homepage, where you could download the music video of
Out of Control
to your own PC and then view it later.
Yes, that is exactly how it worked. Nope, streaming, in sense as we know it nowadays, didn't exist back then. At least not for something as massive as videos. You had to download it first, in full, and then watch it.
Now, we live in an era of streaming services, so here's the video, through YouTube:
Another major record label artist that released their music online was
R.E.M.
. Band decided to share their latest single,
The Great Beyond
, for free. You could download the track, which was in copy-protected
RealAudio
format, to your PC from REM's record label homepage.
Again, to celebrate the fact that services such as YouTube nowadays exist, here's that song, too - with the video:
Other stuff
As we did back then, we also published lists of upcoming DVD releases. And
we did so also in October, 1999
. Films that were about to be released on DVD soon, included ever-green classics, such as
Beavis & Butt-Head Do America
and
South Park:Bigger, Longer & Uncut
.
And yep, we also informed our readers about new software updates. In October, both audio player rivals,
Winamp
and
Sonique
, updated their players. If you want to know more about the rivalry of these two players, I suggest you read our
July, 1999 retro coverage
that explains how customizability of the Windows software was a big thing, back then.
So, that's a brief summary of some of the highlights in our news 20 years ago. If you want to get more of these flashbacks, here are the other "20 years ago" articles we've published so far:
News in August, 1999: Matrix vs Titanic
News in July, 1999: Winamp vs Sonique - The era of Windows customizations
News in June, 1999: AfterDawn launches, ancient software updates and more
P.S. Yes, we missed the September, 1999 coverage. We'll fix that as soon as we can. Apologies.
Written by: Petteri Pyyny @ 31 Oct 2019 16:21