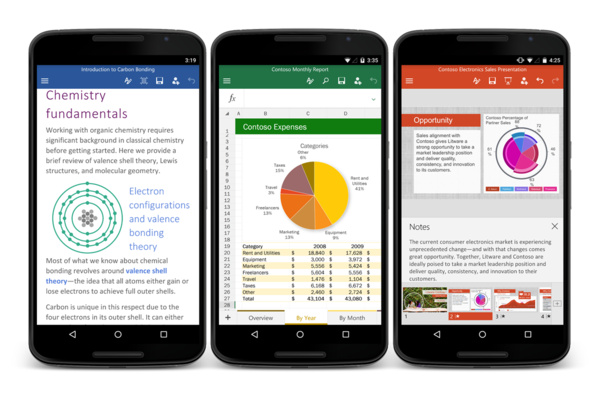 Google Docs is great and all, but a lot of companies and even individuals still swear by the benefits of Microsoft's Office suite. These days Microsoft's offering on mobile is pretty strong too, which is more the reason to use it.
However, previously the app selection has been a little confusing. You'd have to download a different app for every different type of document and manage everything separately. In fact, this confusing method has tainted even Google, who now offers separate apps for example spreadsheet (Sheets) and documents (Docs).
Fortunately Microsoft has noticed themselves that this isn't the way to do it. They've now released a new Office app for Android which includes Word, Excel and PowerPoint.
You can managed and edit all the files without having to install a selection of apps. In addition, the new Office app can download and open files from your OneDrive.
However, there's no tablet optimized UI for the app which is a bummer for those that like to edit their files on the fly with an Android tablet. What's even more unfortunate is the fact that the app is forced in vertical view and can't be rotated.
Perhaps this is will be fixed later.
If you'd like to try the new app, you can find it
here
.
Written by: Matti Robinson @ 18 Feb 2020 18:45