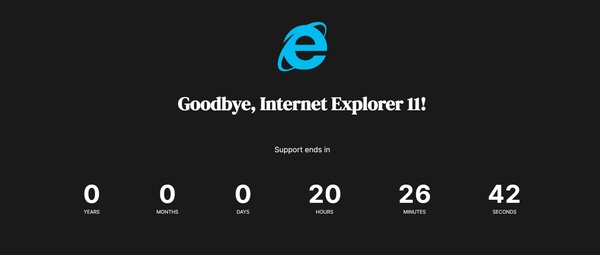 Very rarely any piece of computer software is so loved and hated as
Microsoft
's browser,
Internet Explorer
has been throughout its lifespan. But finally, after 27 years, IE is being killed off.
Microsoft released the first version of
IE
back in 1995. But it wasn't until the turn of the millennium when the browser finally managed to become the most popular web browser in the world.
Partially that success was because of Microsoft's shady tactics, like bundling IE tightly with its Windows operating system. But partially, the reason was also due the fact that back then, IE was simply a faster and more nimble browser than the previous #1,
Netscape Navigator
.
IE quickly solidified its top position, despite the arrival of open source contender,
Firefox
. Firefox never manager to get past IE in terms of global popularity and IE became quickly
de facto
browser during the first years of 2000s.
Microsoft was so certain of its pole position that the company didn't even bother to do any major updates to its browser: Internet Explorer 6 was released in 2001, but it took over five years for IE7 to arrive.
That era when IE dominated is remembered with horror by many old-time web developers, as IE was notoriously bad at supporting any web standards, whatsoever. Basically during those years, web developers had to create two separate versions of their websites: one for everything else and one for IE only.
Finally, IE was overthrown by arrival of
Google
's
Chrome
browser. Chrome rapidly became the most popular browser in the world - and has managed to keep that position ever since.
Since those days, Microsoft has learned how to play nicely: company nowadays is an active member in web standards committees and company's current flagship browser,
Edge
, uses the same rendering engine Chrome does.
On Wednesday, 15th of June, 2022 Microsoft will finally
end the support for the final version of Internet Explorer
, IE11. After that date, Microsoft wont offer any patches or updates to the outdated browser and will focus solely on its Edge browser.
Written by: Petteri Pyyny @ 14 Jun 2022 14:04