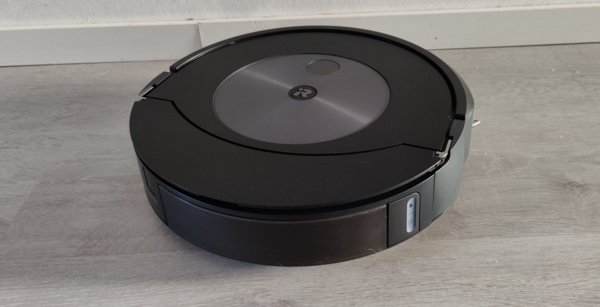 Chinese robot vacuum manufacturers have been successful in selling consumers the idea that a robot vacuum combined with a robot mop is a much better solution. However, I personally have been skeptical of this idea for years. There are essentially two reasons for this: first, a lightweight mop cannot actually remove stuck-on dirt from the floor. But more importantly, I have highlighted the fact that a mop completely ruins the idea of easy-to-use robot vacuums.
Well, the world's largest robot vacuum manufacturer,
Roomba
, has strongly agreed with me on this and has not released any combination device that includes a robot vacuum and mop. However, apparently the pressure from Chinese manufacturers has changed Roomba's mind and they have finally released such a device:
Roomba Combo j7+
is Roomba's first robot vacuum with a mop function.
We received the new device for testing in late 2022 and the testing period lasted almost a record-breaking four months because the robot stayed in our test locations for that long. During the testing period, Roomba Combo j7+ was used as the only floor cleaning tool in the test locations, as always during our tests. The robot was used in two very different types of homes during the testing period: one with lots of carpets and obstacles, and another that was very minimalist.
So, after a four-month period, let's find out how Roomba has managed to solve the problems of combining a robot vacuum and mop.
What is Roomba Combo j7+ like?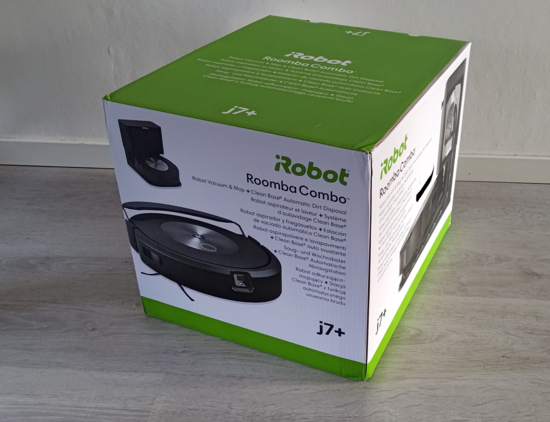 Roomba Combo j7+ is actually the direct sister of Roomba j7+ vacuum cleaner that performed excellently in our test.
So, it is an obstacle-avoiding robot vacuum cleaner that uses artificial intelligence and a camera, with a docking station that also has a mechanism for self-emptying the robot's dustbin. Now, this package has also been combined with mopping capabilities.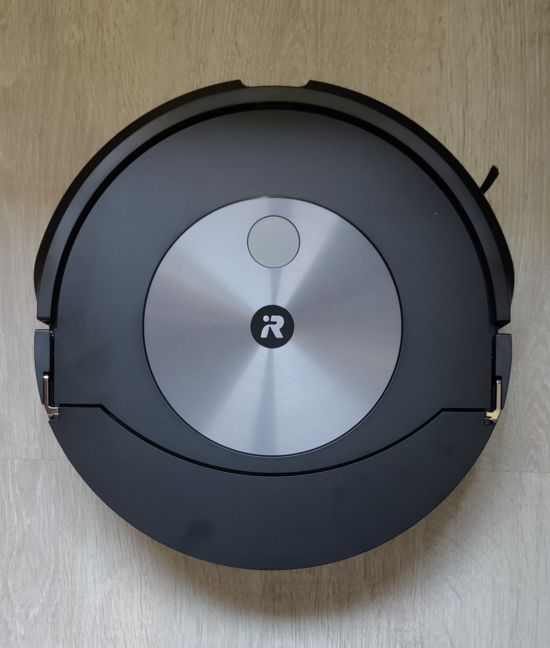 From above, Roomba Combo j7+ looks like a familiar, safe Roomba: a round disc with one button.
Only small details reveal that it is slightly different. The shape of the sides is slightly unusual, and there is a clear groove on top where the cover is divided in two.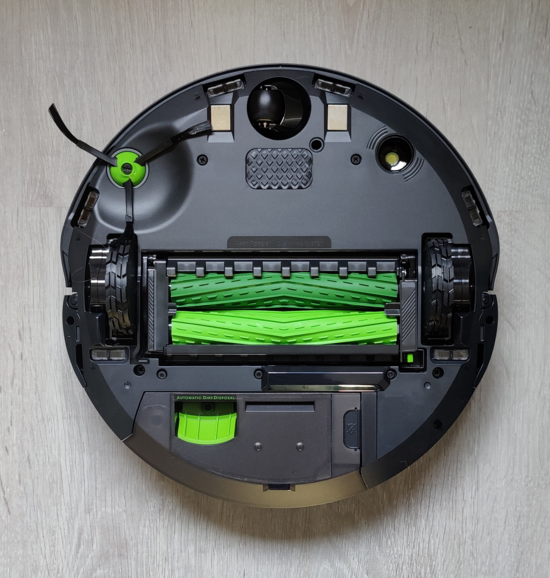 There is nothing particularly special about the bottom either, as it features the two silicone cleaning rollers and side brush typical of Roombas.
In addition, Roomba Combo j7+ model also has a small door through which the docking station can suck out the robot's dustbin.
But at this point, attention is already drawn to the transparent strip next to the aforementioned door.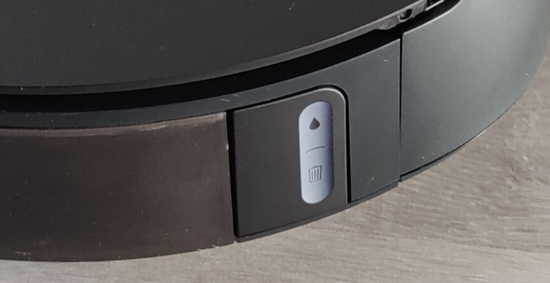 When viewed from the side, Roomba Combo j7+'s most important innovation is revealed: the water tank, which is closely related to the Roomba's mopping function, which we will discuss later.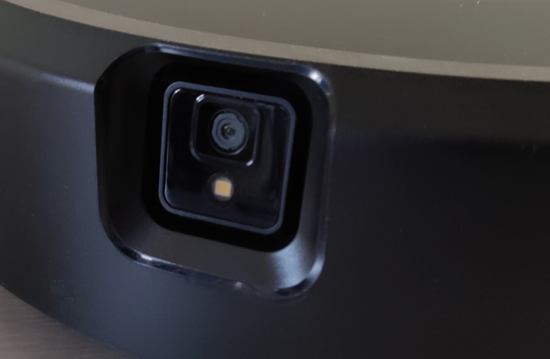 On the other side, there is the side-facing camera already familiar from the Roomba j7+, which helps Roomba recognize obstacles on the floor and avoid them when necessary.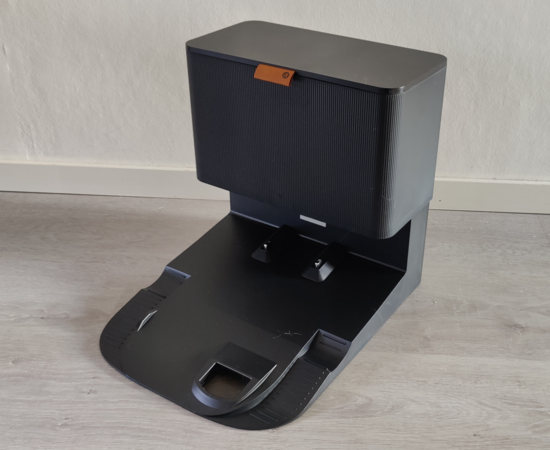 The charging dock, or Clean Base, has not changed in appearance compared to Roomba j7+. It is Roomba's newer Clean Base model, which is not as tall as the old self-emptying docks, but is wider instead.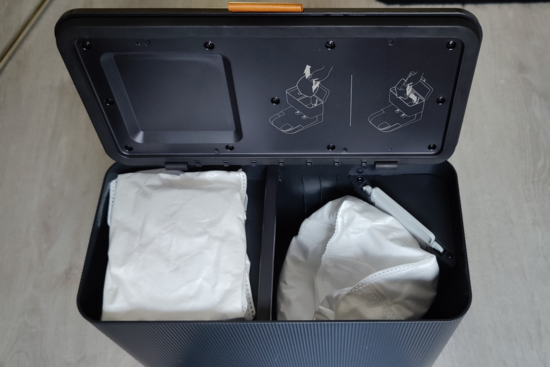 Inside the docking station, there is a traditional dust bag where the Clean Base sucks up the contents of the robot's internal dustbin when the robot returns to charge.
Roomba Combo j7+ technical specifications
| | |
| --- | --- |
| Dustbin size | 313 ml (internal); dock has a dustbag |
| Battery | 2210 mAh / 120 min (as per manufacturer) |
| Weight | 3,18 kg |
| Size | Width 34 cm (circular), height 8,7 cm |
| Other | Can continue cleaning from the place where it was interrupted at after charging (recharge & resume); Roomba Combo j7+ ships with Clean Base charging dock that includes external dustbin - vacuum can empty its internal dustbin to it on its own |
| Water tank | 210 ml |
| Price | appx. $1000 / €1000 (Roomba Combo j7+ w/ Clean Base) |
Getting Started with Roomba Combo j7+
Like all high-quality robot vacuums, Roomba Combo j7 is strongly "connected," which means that in practice, it requires a WiFi connection and a smartphone to be used to its full potential.
When setting up the robot, Roomba is first connected to the home's wireless network using the smartphone application, and the robot is allowed to charge for a while.
The idea of the first few starts is to give Roomba the opportunity to access all the rooms in the home without any obstacles. So even though it is a robot that avoids obstacles, the first couple of uses should ideally clear all obstacles from the floor and open all doors to the rooms in the home.
Based on the first explorations, Roomba can then build a floor plan of the apartment, allowing the home to be divided into rooms and more precisely defining the areas that the robot should not go to in the future.
iRobot Home Smartphone Application
The Roomba smartphone application is called
iRobot Home
and it is available for both iPhone and Android devices.
Unfortunately, the application has become much more complex in recent years. Once upon a time, iRobot Home was perhaps the simplest application ever seen on the smart home front. The reason for the complication is, of course, that Roomba's range of models has grown immensely over the years.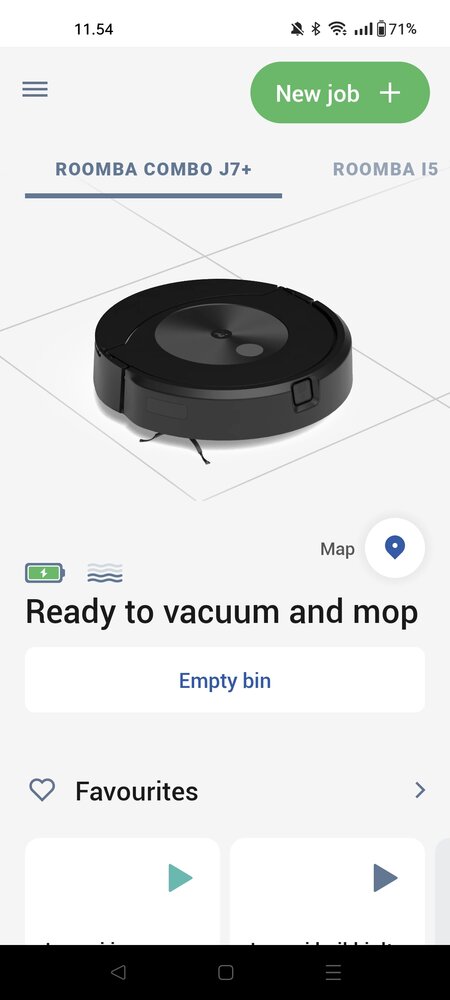 The most important user settings available through the application relate to scheduling and cleaning modes.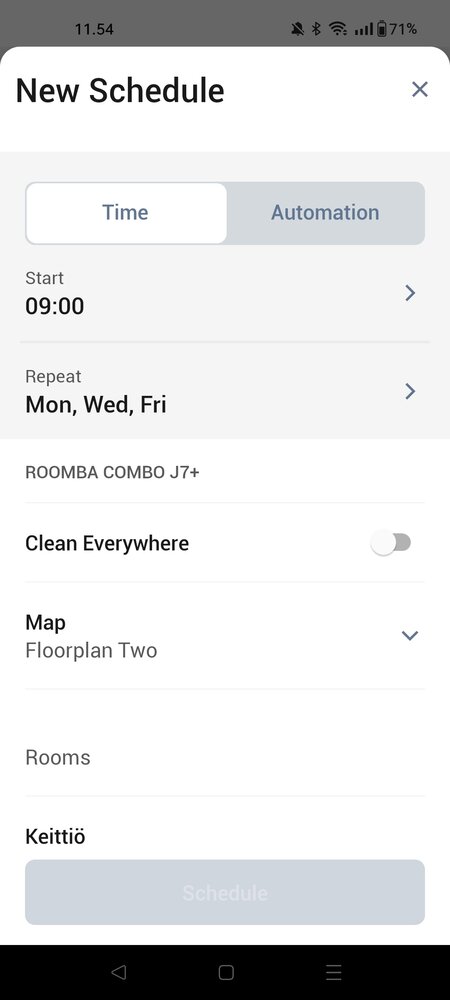 Setting schedules is pleasantly easy, and in addition to traditional schedules, "smarter" scheduling options can also be built.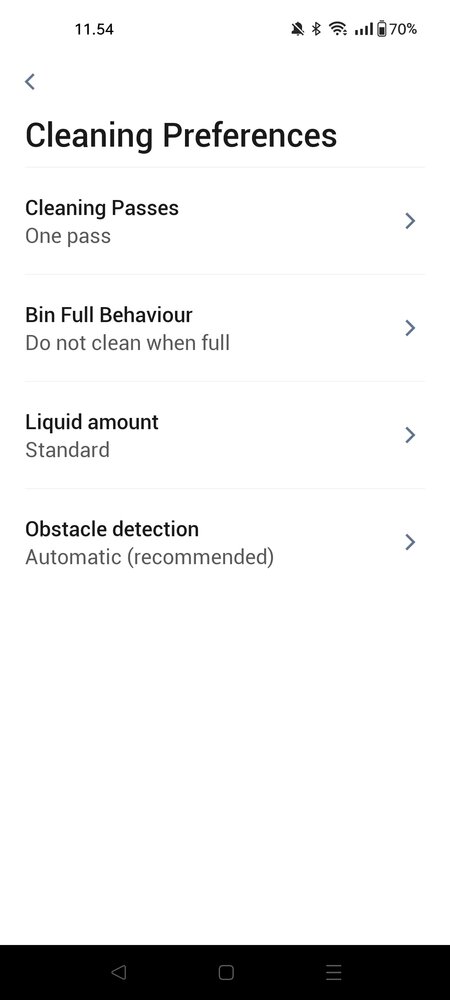 In the cleaning mode, users can choose whether the robot vacuums the selected areas once or twice. Additionally, users can choose whether the selected area is mopped or just vacuumed.
Mapping features
The map features in Roomba models have been improving year by year and Roomba Combo j7 is no exception.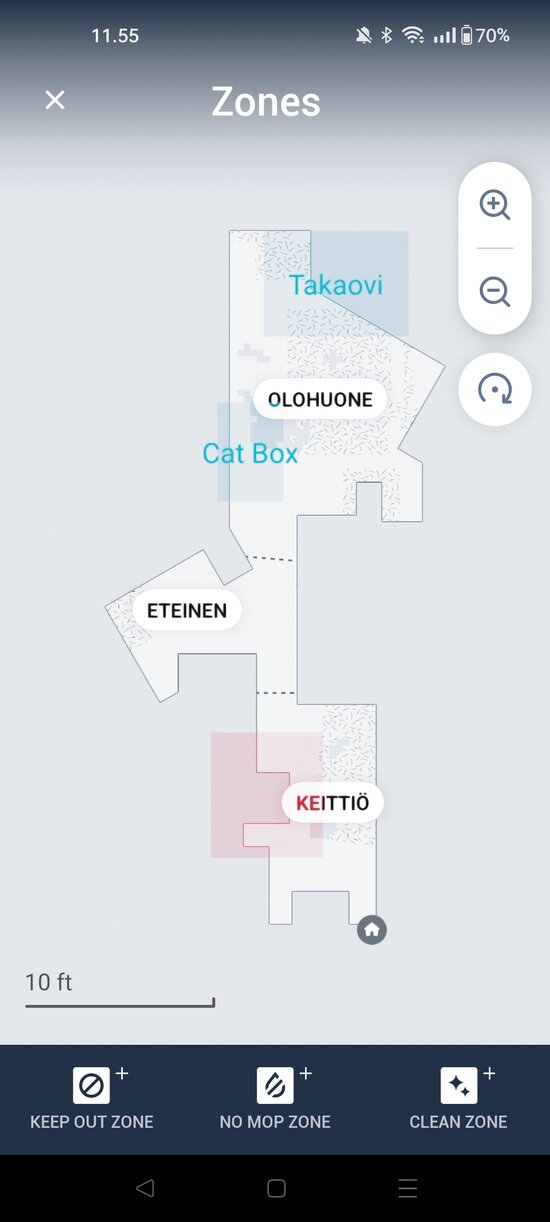 Through Roomba's iRobot Home app, dividing the apartment into rooms is effortless.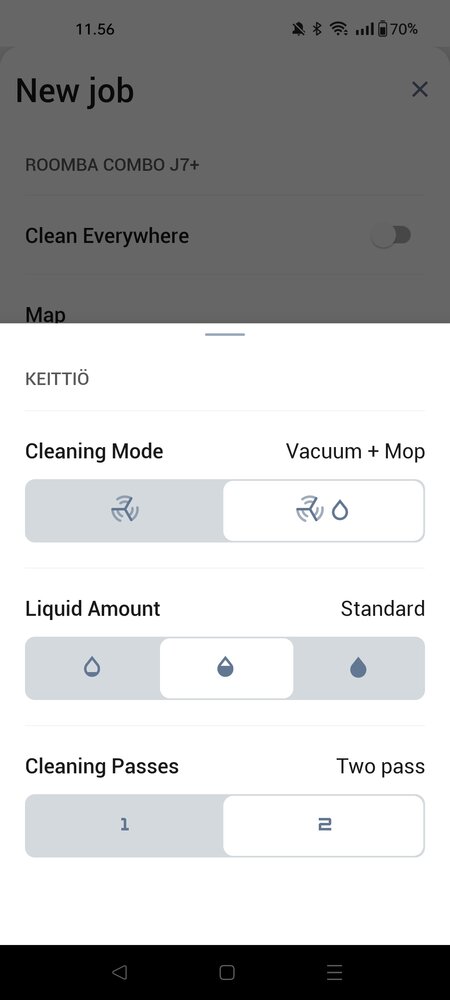 Once the apartment is divided into rooms, the robot can be commanded to clean only certain rooms of the house, if desired. An excellent additional feature is that each room can have its own cleaning method - for example, the kitchen can be vacuumed twice and then mopped, but the bedroom only needs to be vacuumed once without mopping.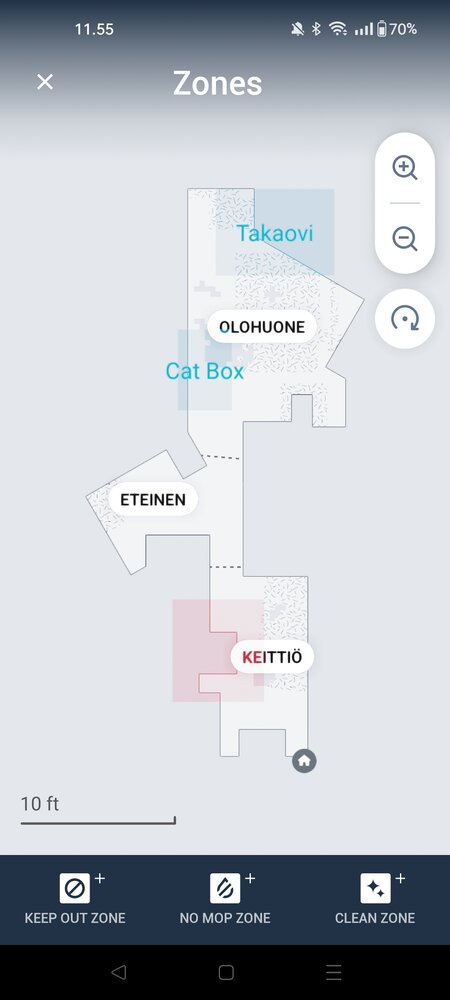 In addition, two types of
no-go zones
can be created on the maps: areas where the robot must never go and areas where it is allowed to go, but it must never mop them.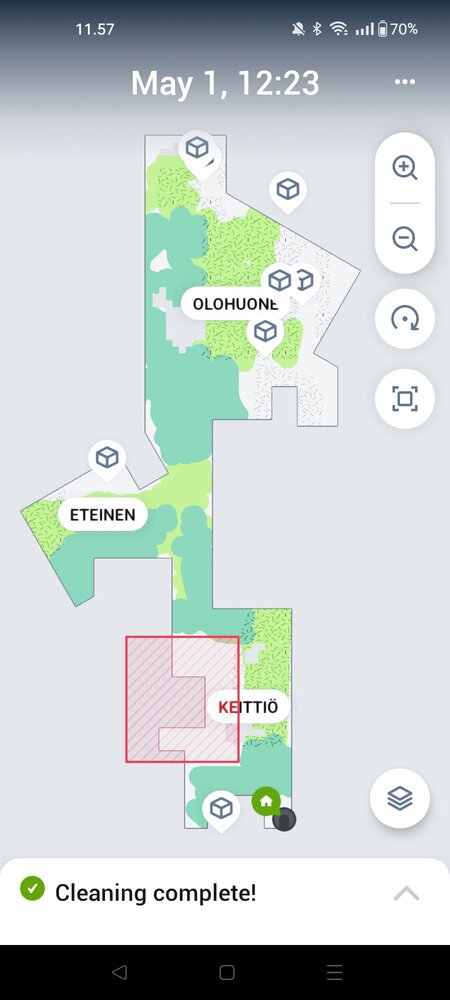 Creating separate cleaning areas is also possible. For example, the area around a cat's litter box can be defined as its own cleaning area, and the robot can be commanded to clean it as needed. Additionally, the app can show areas on the map where there are carpets - and thus areas that should not be mopped.
Operation
Roomba Combo j7 can be put to work in three ways: through scheduling; by pressing the button on top of the robot; or by commanding it manually through the smartphone app.
The cleaning process itself is much more logically structured than it was just a few years ago with older Roomba models. Roomba Combo j7 does not strictly adhere to completely straight geometric shapes, so it is not recommended for those suffering from OCD to watch the vacuum cleaner closely.
In practice, the robot operates quite independently: personally, I prefer to have the robot scheduled to clean every day, during the hours when I know I will be away from home. In this case, the robot does not need any practical intervention for weeks.
Obstacle avoidance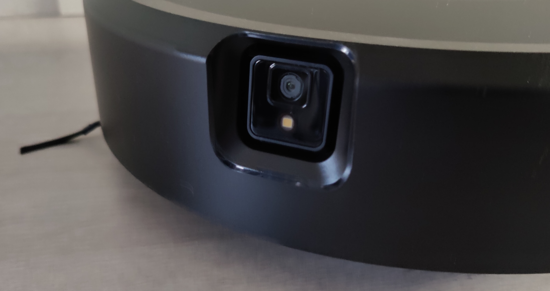 Roomba Combo j7 includes the same obstacle avoidance functionality as its sibling model, the Roomba j7. The robot continuously monitors the floor in front of it through the camera attached to its front bumper. When it detects something that it deems to be an obstacle, it navigates around it.
Obstacle avoidance works quite well, and during the long testing period, Roomba Combo j7 only failed twice to avoid something that it should have avoided according to common sense.
Unfortunately, there is still a gaping hole in obstacle avoidance that occurs in both camera- and Lidar-based solutions: shiny surfaces are their kryptonite. The robot does not "see" any obstacles with reflective, shiny surfaces and therefore cannot avoid them.
And finally... mopping
The novelty and specialty of Roomba Combo j7 is undoubtedly mopping. For years, the company has avoided the combination of a mop and a robot vacuum, leaving room for Chinese manufacturers to capture the market.
In my opinion, Roomba's decision to focus on vacuums has been correct, as the usefulness of mopping functions is very, very limited.
Why is this?
Firstly, no robot mop can remove deep-seated dirt from the floor. The reason for this is physics: when mopping deep-seated dirt by hand, the dirt is primarily loosened through force. A lightweight robot, weighing only a few kilograms, simply cannot apply the same force to a stain as a human can.
Secondly, there has always been a huge problem with robot vacuum and mop combinations: if you attach the mop to the robot vacuum, it drags the wet mop over the carpets. This has been solved in some models by having the mop stay in place, so the robot does not go over the carpets at all. However, that solution means that the carpets cannot be vacuumed.
Previously, the combination of a robot vacuum and mop has practically meant that the mop had to be manually attached to the device every now and then when you wanted to mop, and removed at other times. According to my friends' experiences, this situation has always led to the mopping function never being used.
But...!
Roomba has solved this second problem, and quite cleverly.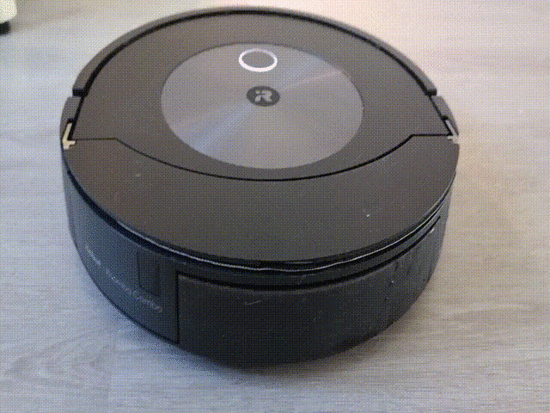 Roomba Combo j7 keeps the mop pad on top of the robot and only turns it underneath when needed. The solution is simply ingenious. And quite wild-looking, as seen in the video below, where Roomba switches from just vacuuming to a combination of vacuuming and mopping seamlessly.
Mopping actually worked surprisingly well. Of course, it does not remove stains, but at least the mop did not cause any additional hassle for using the robot, as it usually does in other models.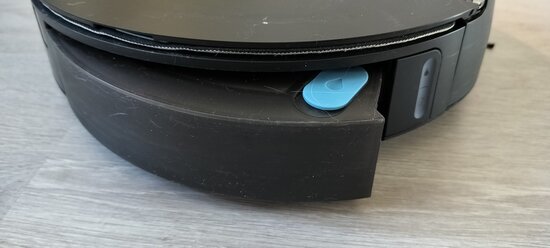 The water tank of the Roomba can be removed by pressing a button
The only problem that the Roomba Combo j7 does not solve is that the water tank needs to be refilled from time to time. Roborock has solved this in its own models by integrating a water point into its charging station, but Roomba has not yet done so.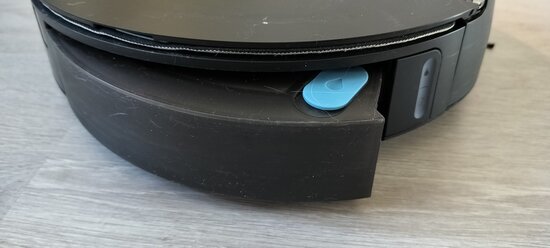 The water tank is connected to the internal dustbin and is really small, only about 2 deciliters.
However, the mop is quite water-efficient, and even though the water tank is small, it was able to clean a 60m2 apartment three times before needing to be refilled.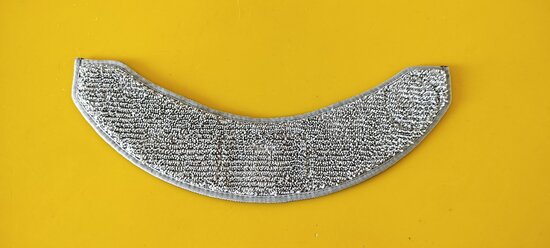 The cleaning pads used by the mop are washable and reusable, and a 2-pack of cleaning pads currently costs about €30 / $25.
Carpets and Furniture
Unfortunately, for some reason, Roomba Combo j7 seems to take a step backward compared to Roomba j7 when it comes to dealing with rugs that are common in various European countries.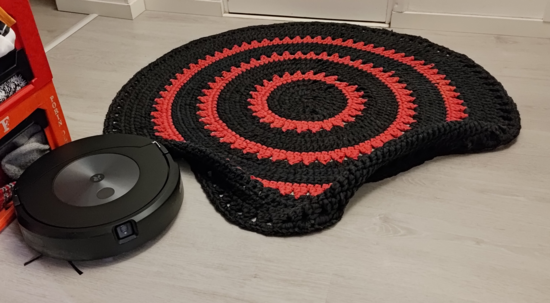 In our second test location, there were several different types of rugs and carpets, and with almost all of them except one, Roomba Combo j7 was struggling at some point during our testing. The biggest problem was a lightweight round rag rug, which Roomba regularly crushed into a ball, preventing the robot from accessing other rooms.
The heavier, long kitchen mat did not cause any permanent problems, but getting on top of it was sometimes a very, very challenging project for Roomba Combo j7.
However, Roomba did not get stuck in the rugs, as so many other robots have done in our tests over the years. But for some incomprehensible reason, its ability to deal with rugs was slightly weaker than that of its predecessor.
As for furniture, Roomba had no real difficulties except for one big exception. "Normal" furniture did not cause any problems, and thanks to Roomba's long side brush, even the difficult areas around chair legs and other furniture were cleaned excellently.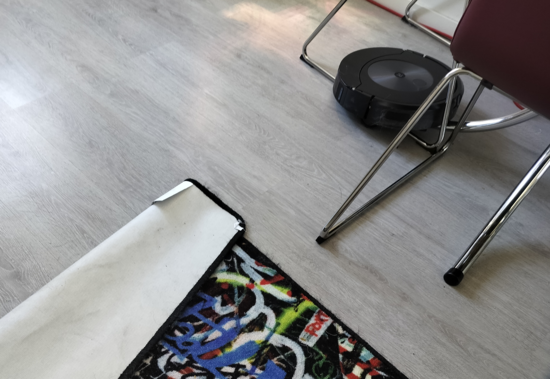 The chairs that I named the killers of robot vacuums have claimed another victim...
The only problem with furniture was the same as with many other robots: kitchen chairs with shiny, chrome-coated legs that run parallel to the floor. Even obstacle avoidance did not help the robot, as the shiny surfaces are almost impossible to recognize with a camera. As a result, Roomba regularly managed to climb onto the legs of the kitchen chairs - and got stuck there.
In the end, the problem with chairs was "solved" by defining the kitchen table as a
no-go zone
, an area where the robot was not allowed to go. Therefore, during the test period, a traditional vacuum cleaner had to be used in the kitchen occasionally.
Other obstacles
With other low furniture legs and certain types of carpets, Roomba did not have any problems during our test period.
Of course, this was greatly aided by the robot's very effective obstacle avoidance. In practice, during the entire test period, the apartment was never cleared specifically for the robot, so the robot lived on human terms - not the other way around. As it should be.
Roomba successfully avoided pets' toys, various charger cords, shoes, shoelaces, and other objects left on the floor obediently and politely.
Noise levels
When cleaning, Roomba is reasonably quiet for a robot vacuum cleaner. Even in an apartment building, the noise level shouldn't disturb your neighbors during the daytime. However, I wouldn't turn it on at night or on a weekend morning.
However, Roomba Combo j7's sound isn't particularly pleasant, and I wouldn't want it to be whirring away while I'm at home. So, as always, our recommendation is to use the Roomba when you're away from home.
It's crucial to note, though, that even though the robot doesn't make a terrible noise while cleaning, the situation changes entirely when it finishes its job.
When Roomba Combo j7+ returns to its Clean Base dock, it empties its internal dustbin into the dust bag in the charging station. And that sound is reminiscent of a jet plane taking off. Unfortunately, you can't set a time limit on the emptying process, and the Roomba always does it at the end of the cleaning cycle. So, don't use the vacuum cleaner at night, or you'll cause an alarming number of heart attacks in the neighborhood.
Pet household
Our second test was in a home run by an angora-haired cat. In other words, an extremely hairy home.
Roomba Combo j7+ was in its element in this type of home: the Clean Base dock was a real necessity since a robot vacuum with just an internal dustbin would have to be manually emptied at least twice a week.
Also, the silicone cleaning rollers are the best option for a pet home because removing pet hair from them is much easier than from traditional, brush-like cleaning rollers.
The obstacle avoidance feature also came in handy since the pet's toys didn't have to be collected from the floor before starting the cleaning process. And perhaps, just maybe, there was some small pleasure in mopping in this particular case - as it could remove an extra percent of pet hair from the floor compared to just vacuuming.
Overall, Roomba Combo j7+ is an excellent fit for a pet household in my opinion.
Battery life and charging
The battery life of Roomba is at a reasonably good level. In practice, the battery lasted for about 80 minutes, which was enough to thoroughly clean both of our test locations each time - even when the robot was instructed to vacuum twice and mop at the same time.
I estimate that one charge can cover a thorough cleaning of a 100m2 apartment, but in reality, the situation depends entirely on the floor plan of the apartment and the number of obstacles, among other factors.
However, Roomba Combo j7+ can continue cleaning from where it left off if the battery runs out during the cleaning process. Unfortunately, the charging speed is still one of the weak points of robot vacuums, including the Roomba Combo j7: it takes about 3 hours for the battery to fully charge from empty. I cautiously estimate that during an 8-hour workday, Roomba can clean a detached house with a size of about 200m2. During that time, one charging cycle is done in the middle of the cleaning process, and then the robot returns to work.
Cleaning results
The cleaning results with Roomba Combo j7+ were excellent overall. The corners, furniture edges, and hard floor surfaces were cleaned very well.
The only slight drawback is that the Roomba Combo j7+ was not quite as good at removing cat hair from carpets as some of the other vacuums we tested. The result was still very good, but not quite top-notch in this respect.
Roomba Combo j7 vs Roomba Combo j7+ - what's the difference?
The only difference between Roomba Combo j7 and Roomba Combo j7+ is that the "plus" model can empty its internal dustbin by itself.
Otherwise, the models are exactly identical, but the Combo j7+ comes with a Clean Base charging station, while the basic version, Combo j7, only comes with a regular charging station. In addition, the plus model has a silicone-protected door through which the internal dustbin is vacuumed out, which the basic version does not have.
Although the price difference between the plus model and the basic model is relatively high, I definitely recommend the plus version instead of the basic model - in most households, the basic model's dustbin needs to be manually cleaned about once a week, and even more often in pet households. Conversely, the dustbin of the plus model did not fill up even during our five-month test period.
Summary
Roomba's first mopping robot vacuum is an interesting package. The company has smartly taken the nearly perfect Roomba j7 model as its foundation and added mopping functions on top of it.
The mop has been implemented in my opinion in a brilliant way, where the mop is stored on top of the robot when not in use and automatically slides underneath the robot when mopping is being used. This implementation solves one of the worst problems with mop-vacuum combinations, namely that the mop either ruins vacuuming or always requires removal and reattachment.
Unfortunately, Roomba's new product does not solve two of the problems with mopping: the water tank still needs to be filled by hand, and secondly, a lightweight robot mop is a reasonably unnecessary device overall. Regarding the latter, I would say that Roomba has added a mop to its vacuum mainly because Chinese manufacturers such as Xiaomi and Roborock have taught consumers to demand one. Roborock already has a solution for filling the water tank - a filling system in the charging station - but Roomba has not yet shown such a solution.
Unfortunately, in a couple of areas, Roomba Combo j7+ takes a step back compared to its predecessor: with carpets and especially with light rugs, the Combo j7+ is a bit more often in trouble than Roomba j7. Secondly, as software and robot technology become more complex, it seems that various software-related problems begin to appear too often in Roomba's operations.
However, Roomba Combo j7+ is an excellent package if you really need a mopping robot and still want to avoid the biggest problem with mopping robots (i.e., that they are no longer completely carefree, like the best robot vacuums).
Is Roomba Combo j7+ Worth Buying?
Roomba Combo j7+ is really expensive. It currently costs around a thousand euros/dollars. Only a few of Roborock's most expensive devices reach the same price range, which practically compete for exactly the same target group.
At the time of writing, the "mopless" version, Roomba j7+, costs significantly less than Roomba Combo j7+ - and that poses a problem. I personally wouldn't pay, say, a $200/€200 more to get the mopping edition of the otherwise excellent vacuum.
But if you absolutely need a robot vacuum that is as carefree and unobtrusive as possible and that also has mopping, Roomba Combo j7+ is worth its price.
Pros
Smart mopping function
Excellent obstacle avoidance capabilities
Self-emptying dustbin
Great cleaning performance on hard floors
Clear and well-translated smartphone application
Cons
Struggles a bit with carpets
Cleaning performance on carpets and rugs is "only" very good, and for the price, one would expect excellent results
Doesn't recognize certain shiny obstacles
Water tank filling is not automated, unlike with some of the pricier competitors
Rating
When awarding stars, we always take into account the device's price at the time of the review. Compared to, say, the affordable Roomba i3 model, Roomba Combo j7+ is, of course, a much better robot vacuum in every way.
However, a thousand-euro device comes with different expectations than a two-hundred-euro vacuum. In this case, the stars drop a bit due to a few shortcomings in obstacle avoidance, carpet cleaning performance, and the fact that the cleaning performance on carpets could still use some improvement.
Written by: Petteri Pyyny @ 6 Jun 2023 9:19