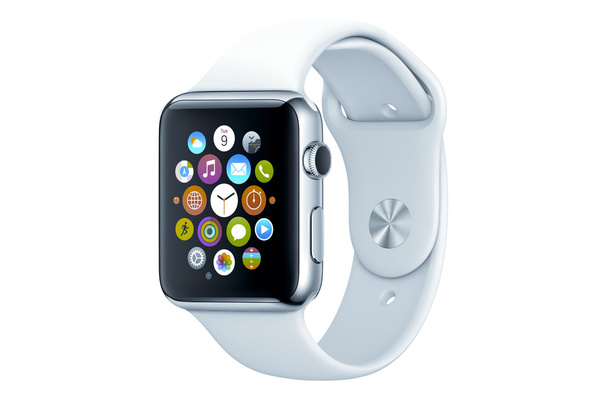 Apple has finally shown off its upcoming Apple Watch wearable device to the public, slating it for release in earlier 2015. So what was the fuss all about and did Apple deliver?
Describing it as its most personal device ever, Apple showed off the upcoming Apple Watch in Cupertino today. The smartwatch will come in three varieties - Apple Watch, Apple Watch Sport and Apple Watch Edition - in either 38 mm and 42 mm sizes and with enclosures rafted from custom alloys of polished or space black stainless steel, space gray or silver anodized aluminum and 18-karat rose or yellow gold. A line of watch straps are also available.
UI, Controls and Fitness
Each Watch comes with a Retina display that tout a Force Touch feature, which can essentially tell the difference between a tap and a "press". The user interface is of course based on the company's iOS operating system, though obviously redesigned for such a small display and to support the Watch control mechanisms.
Apple has introduced the "Digital Crown" which you can use to control the UI, for navigation, zooming or scrolling. It also serves as the device's Home button and can be used to access Siri.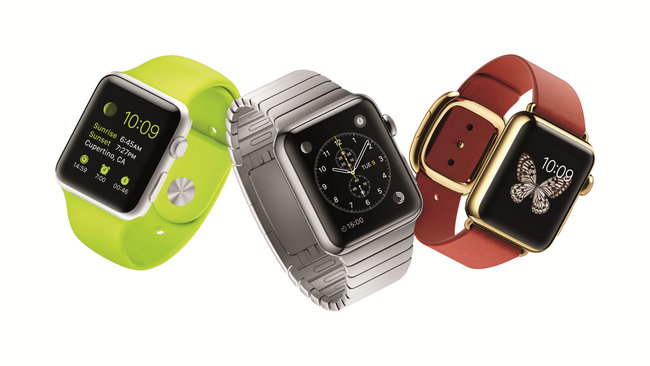 Apple Watch puts a strong emphasis on fitness and exercise. The Activity app is designed to motivate you to be more active throughout the day while the Workout app provides the metrics you need during your sessions, as well as goal-setting and pacing during popular session-based workouts, such as running and cycling.
Apple Watch uses the accelerometer, a built-in heart rate sensor, GPS and Wi-Fi from your iPhone to provide a comprehensive picture of your daily activity.
One notable omission from Apple in the area of fitness is whether we can expect Watch to be waterproof or not. A lot of exercise-focused smartwatches are waterproof so that swimming is not left out, and that's very important to a lot of athletes, triathletes for example.
Pairing with iPhone, Apple TV and Apple Pay
Apple Watch is designed to be the perfect companion for an iPhone. You can easily accept calls from friends on your wrist, or respond to messages. With "Handoff" you can even finish messages on your iPhone. Using Digital Touch, you can send a audio message through "Walkie Talkie", a sketch, a gentle tap or you can even send your heart rate information. We're not really sure why you would want to, but you can...
Pressing the side button displays "Friends", enabling you to contact them quickly, while a swipe up brings up "Glances" which can provide quick and useful information, such as stock activity or location info (though you probably don't need pairing for this).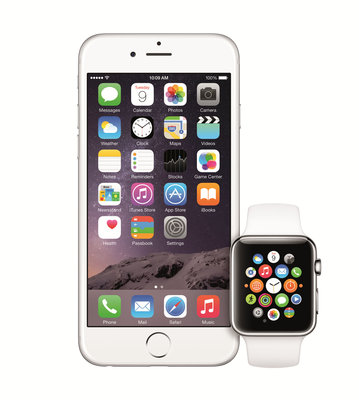 You can use you Apple Watch to control your Apple TV STB if you have one too, and if you are residing in the United States, you can take advantage of Apple Pay which will let you easily pay for physical goods and for services without needing to get your credit card out.
Technical Information
Apple didn't go into too much detail about this unfortunately, but did reveal that the Watch is driven by a Apple's custom S1 SiP chip, designed to pack the entire computer architecture onto a single minature chip. Pairing with iPhone is done through Bluetooth 4.0 connectivity, and Wi-Fi is also supported (not 802.11ac it would appear however).
Apple Watch will be available with iPhone 5, iPhone 5s, iPhone 5c, iPhone 6 and iPhone 6 Plus as long as they are running iOS 8.
Strangely, Apple's event and press information didn't mention the battery life to expect from this device.
Pricing and availability
As mentioned, there are three options: Apple Watch, Apple Watch Sport and Apple Watch Edition, all which will be available sometime in early 2015.
Apple Watch will be available with a polished or space black stainless steel case and a choice of straps. Apple Watch Sport will be available with a space gray or silver anodized aluminum case and Sport Band. Apple Watch Edition will be available with an 18-karat rose or yellow gold case and a choice of straps exclusive to this collection.
All we know about pricing now is that it
"starts"
at $349.
Is it worth it???
Written by: James Delahunty @ 9 Sep 2014 18:24