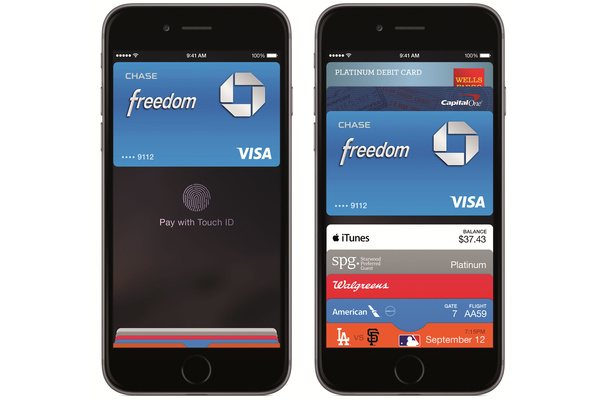 Apple Pay is a new mobile, contactless payment system developed by Apple Inc. that will soon be available to use online and offline. What should you know about it?
Today in Cupertino, Apple unveiled its new iPhone 6, iPhone 6 Plus and introduced its Apple Watch line for the first time. It also dated iOS 8's public release for later this month and gave away a U2 album to iTunes customers.
Another service announced by Apple - and strongly linked to the new iPhones and Apple Watch - is Apple Pay, which the company promises will revolutionize how to pay for physical goods and services offline, and how you pay for things in apps on your iPhone.
So here is a quick run down of what Apple revealed to this point.
What is Apple Pay?
Apple Pay is a new mobile payments and contact-less payment service provided by Apple, which the firm promises is simple to use, private and secure. Using NFC (near-field communication) built in to the iPhone 6, iPhone 6 Plus, you can pay for goods and services easily without having to produce a credit card or debit card, using Passbook, and TouchID as part of the authorization process.
When will it be available?
Apple Pay will be available as a free update in October.
What payment cards are supported?
American Express, MasterCard and Visa issued by the most popular banks including BOA, Capital One, Chase, Wells Fargo and Citi. To make it easy to setup, iTunes customers can add their credit or debit card on file from their iTunes Store account.
Where can you use it offline?
You can use Apple Pay to pay for goods and services at POS stations at Apple Stores and leading retailers in the United States, including Bloomingdale's, Disney Store and Walt Disney World Resort, Duane Reade, Macy's, McDonald's, Sephora, Staples, Subway, Walgreens and Whole Foods Market.
In addition, Apple Watch will also work at merchants across the United States that already have contactless payments enabled (estimated at 220,000 locations).
Where can you use it online?
Apple Pay can be used to make payments within apps on the iPhone. Apple Pay APIs will be available to developers in iOS 8 to add support for payments. You will be able to make payments as easily as you can in iTunes, for example. Apple Pay makes the transaction much quicker since you won't need to fill out any financial information, or shipping information (well, beyond initial setup).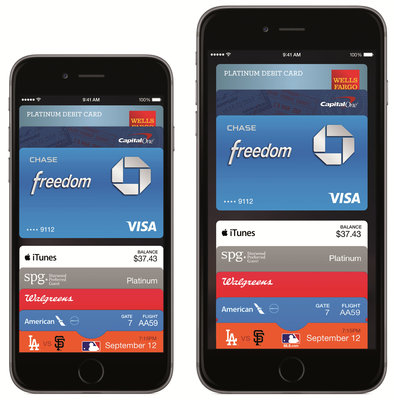 Where is your credit card information stored?
A new dedicated chip on the iPhone 6 and iPhone 6 Plus stores the information required for Apple Pay to work. However, when you add a credit card or a debit card with Apple Pay, the actual card number is not stored on the device nor on Apple's services.
The Secure Element stores a unique Device Account Number encrypted. Each transaction carried out is authorized with a one-time unique number. Security codes on the back of credit cards are not stored or used either; instead Apple Pay creates a dynamic security code for the validation of every transaction you make.
Are your purchases private, or does Apple keep information about your payments?
Apple does not keep track of your purchase history. It does not track what you bought, where your bought it or even how much you paid for it.
Will Apple Pay work with iPhones older than iPhone 6 and iPhone 6 Plus?
This isn't a straight-forward yes or no. It definitely is not supported by the iPhone 4s, despite the iOS 8 update coming to that model. According to Apple's press material, Apple Pay is supported by Apple Watch, and that can extend support to iPhone 5, iPhone 5s and iPhone 5c devices. However, you have to remember that the NFC antenna is vital for contactless payment, and TouchID for authorization, so it is fairly unclear to what degree Apple Pay can be supported by older iPhone models.
Regardless, Apple has indicated it will be available as a free update for those devices too so we will have to wait and see.
Are there any regional limitations to Apple Pay?
Yes, it is available only in the United States at launch, but likely to move to other territories eventually.
How can Apple protect Apple Pay users from fraud?
In the event that your iPhone is stolen, there is no stored credit card or debit card information to mine from the device due to Apple Pay. You can also use Find My iPhone to disable payments being made through a stolen or lost device just in case.
Additionally, when you make purchases at any merchant, the cashier is no longer able to see your name, credit card number or security code information, which greatly reduces the potential for fraud on that end. Credit card details are also not shared with Online merchants.
Written by: James Delahunty @ 9 Sep 2014 20:13