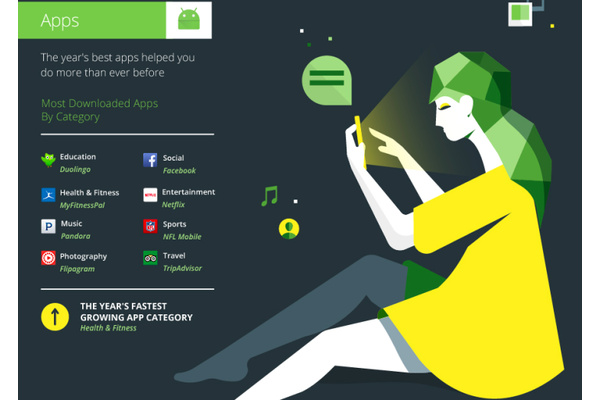 Google has unveiled their Google Play 'best stuff of the year' report for 2014, showing off the most downloaded and most popular apps of the year.
The lists include top news app, top entertainment app and even the most downloaded movies and TV shows.
iOS device owners saw a similar list earlier this month and many of the same names and titles are on that list, as well.
Take a gander:
APPS
Most Downloaded Apps by Category in 2014
Education:
Duolingo
Health & Fitness:
MyFitnessPal
Music:
Pandora
Photography:
Flipagram
Social:
Facebook
Entertainment:
Netflix
Sports:
NFL Mobile
Travel:
TripAdvisor
GAMES
Top Downloaded Games in 2014
Candy Crush Saga
Don't Tap The White Tile
Farm Heroes Saga
Subway Surfers
Clash of Clans
MOVIES & TV
Movie of the year:
Frozen
TV show of the year:
The Walking Dead
Comeback Movie:
Toy Story
Most searched actor on Google Play:
Robin Williams
MUSIC
Album of the Year:
Frozen: Original Motion Picture Soundtrack
Song of the Year:
Dark Horse by Katy Perry
Song of the Summer:
Fancy by Iggy Azalea
Fastest Growing Genre:
Soundtracks (fueled by Frozen, Guardians of the Galaxy, Despicable Me 2, The Lego Movie and The Great Gatsby soundtracks)
NEWSSTAND
News Sources of the Year:
The New York Times
TMZ
Forbes Now
The Verge
The Huffington Post
The Daily Beast
The Wall Street Journal
Gizmodo
Android Central
Some of the most read articles of 2014:
Flavorpill – 15 '90s Teen Heartthrobs Who've Resurfaced on TV
Mental Floss – 50 More Awesome Facts (About Everything)
MarketWatch – 10 most miserable cities in America
Houzz – Bathroom Workbook: How Much Does a Bathroom Remodel Cost?
The Verge – The Verge Awards: the best of CES 2014
BOOKS
Books of the Year:
The Fault in Our Stars
Fifty Shades of Grey
Divergent
Twelve Years a Slave
Insurgent
List via Crunch
Written by: Andre Yoskowitz @ 11 Dec 2014 19:42