TiVo's latest set-top box, the Bolt, is making a play to be your primary streaming device.
The Bolt supports cable and Verizon FiOS, has inputs for an OTA antenna and supports Wi-Fi and Ethernet making it very versatile.
Currently, the box supports 4K video from Netflix and YouTube, and has quite a few popular streaming apps like Amazon Instant Video, Xfinity, Pandora, Spotify and Vudu. Notably missing, however, is Hulu. At least at launch.

"From a hardware perspective, it's about changing and future-proofing the platform, getting 4K and speeding up the speed,"
said Jim Denney, TiVo's vice president of product management and strategy.
"From the user standpoint, it's about getting you through your content more quickly and then really being that one-stop shop for all of your content, letting you organize easily as you navigate to it and through it."

New features also include "SkipMode" and "QuickMode," the first of which allows you to skip ads from 20 major channels and the latter of which helps speed up your video by up to 30 percent while correcting the pitch of the audio, allowing you to get through a program quicker (I guess if you are very busy?).
The Bolt with a 500GB HD will cost $299, and 1TB will set you back $399. You get one year free of TiVo with either purchase, but it costs $149 year afterwards.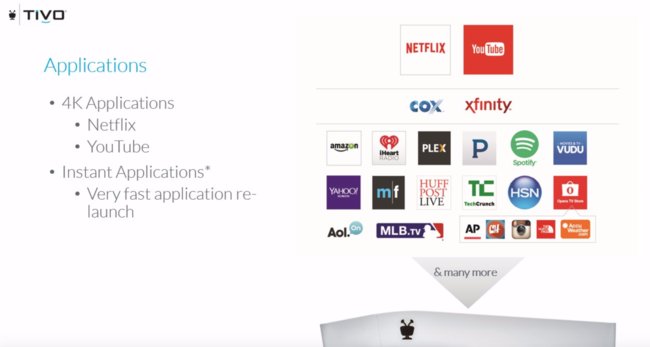 Source:
USAT
Written by: Andre Yoskowitz @ 1 Oct 2015 22:26