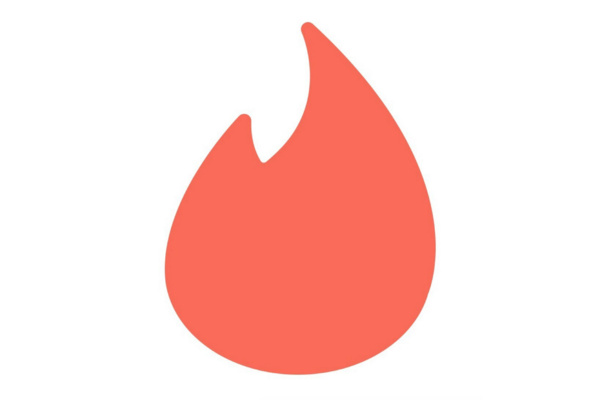 Tinder, the world's most popular dating app, has introduced a new subscription tier, dubbed as
Tinder Platinum
. The new subscription level adds on top of the existing tiers
(Tinder Gold and Tinder Plus)
, introducing two important new features to the app.
First and foremost is the feature called
Messages without a match
, which basically allows one to send a short message
(max 140 characters)
to the recipient even when there's no match between the two.
In order to send such message, sender must be subscribed to the Tinder Platinum. Message is then attached to a
super like
that user sends to the recipient. The recipient sees the superlike, along with the message and then decides whether to like the sender or not.
If the recipient doesn't like the sender back, sender wont be able to send further messages. If recipient likes the sender back, a new Tinder match is formed and the two can then continue chatting as normal Tinder matches.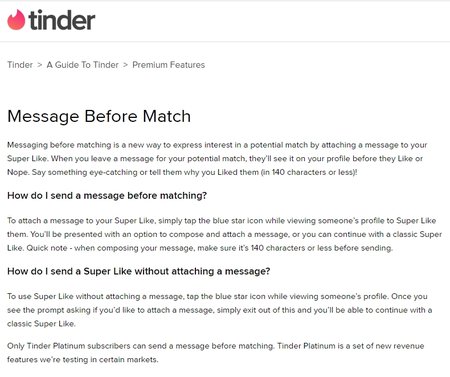 Even with platinum level, subscribers only have a limited number of superlikes available. In this case, five a day. So, platinum tier subscribers wont be able to spam freely - but with deep enough pockets, they can, of course, send the opening message as many times as they want, as platinum subscribers can purchase more superlikes if they run out of those.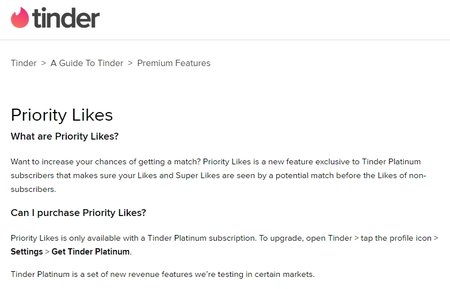 The other notable difference between Tinder Platinum and Tinder Gold is the
priority like
. All likes sent by platinum tier members are pushed as priorities. This basically means that when user browses through the potential candidates, the ones who have sent a like
(or superlike)
and are platinum members, get shown first in the user's feed.
Tinder Platinum is a beta feature that hasn't rolled out to all users yet. It is highly likely to be tested in select geographical regions first before rolling out globally.
Tinder's pricing is dynamic, meaning that each person pays different price. Basically this means that older users pay more than younger and men pay more than women.
Written by: Petteri Pyyny @ 7 Aug 2020 5:07