About ten minutes ago, some part of the internet's structure crashed. The fingers are pointing to some of the various large CDN and cache providers - guesses at Twitter are that the culprit is
Fastly
.
Due this, various huge websites, such as
Reddit
and
StackOverflow
simply show
503 error
for now.
According to DownDetector site, the problems started about 10 minutes ago before we published this story: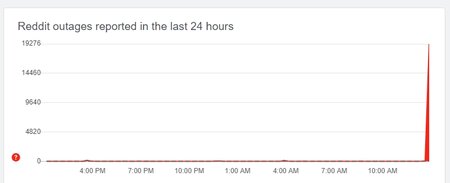 The list of affected sites continues to grow:
and Twitch are both down. And fingers are pointing at Fastly's server outages.


it looks like Fastly is having a catastrophic outage right now https://t.co/T2ZLzCUVlF

-- Tom Warren (@tomwarren) June 8, 2021
The list of affected services continues to grow. Popular European sports service,
Eurosport Player
seems to be down due the same problem, too: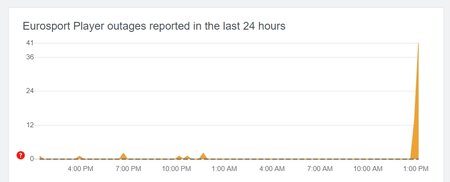 List on
Down Detector
's front page lists at least these affected sites and services:
WhatsApp
,
Spotify
, parts of the
Facebook
,
eBay
,
Paypal
, Twitch, Eurosport Player,
Sky
and
CNN
. Hundreds - if not thousands - of smaller sites are being affected, too.
EDIT 11:11 UTC
: Problem seems to be fixed now. And as suspected, the problem was with popular CDN provider
Fastly
whose own status page looks like this as of now: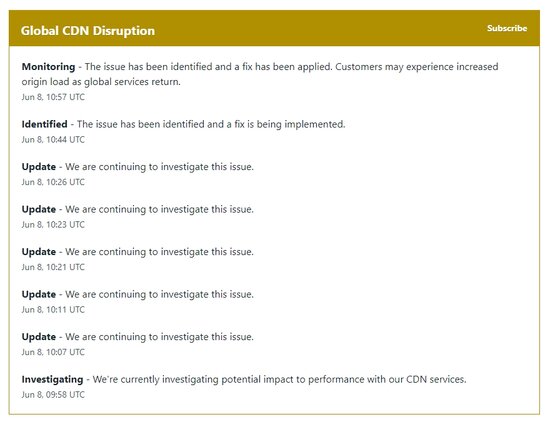 And according to various site health monitoring services, most of the affected sites seem to have recovered by now.
Written by: Petteri Pyyny @ 8 Jun 2021 6:16