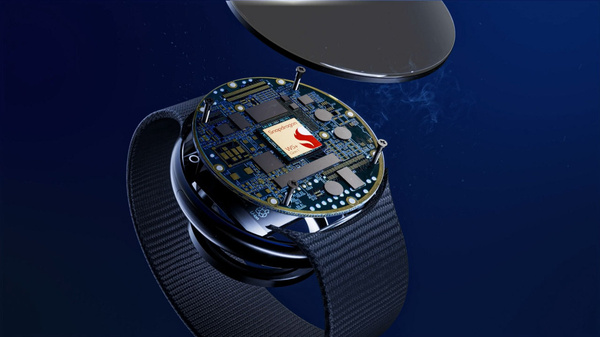 The leading semiconductor corporation Qualcomm has announced new Snapdragon chips for wearables. The upcoming Snapdragon W5 Gen 1 and Snapdragon W5+ Gen 1 system-on-chips provide vastly improved power management among other changes.
In their documentation, the company has focused on the superior, in what they call the "most advanced leap yet", the Snapdragon W5+ Gen 1 chip, which is the one that you'll see on many of the upcoming Wear OS smartwatches. The featured chip is a successor to the wide-adopted Snapdragon Wear 4100+ platform, and offers upgrades throughout the device.
The regular W5 Gen 1 is aimed at segment-specific devices, which can be found in kids toys, health equipment, or enterprise solutions. Although undoubtedly an important part of Qualcomm's wearable business, the chip is less of a consumer product.
Smaller transistors, better battery life
The most important improvement upon the previous generation has been made in the battery life and power management department.
Indeed massive leaps have been made in the transistor process, the SoC is now produced with a 4 nm technology, compared to the 12 nm process of the predecessor. This means that the transistors are smaller, and with a smaller footprint you'll get a more efficient chip, and ultimately better performance and battery life on the end product.
The Snapdragon W5+ Gen 1 also introduces a brand-new SoC schema, including two very different system-on-chips for different tasks.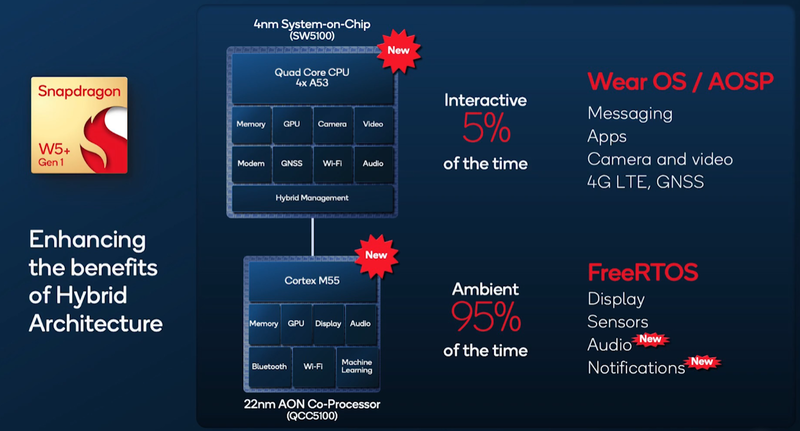 The hybrid SoC has two separate chips for ambient and interactive use.
The powerhouse of the hybrid chip is the Snapdragon SW5100 that has four Cortex-A53 cores and takes care of the hard work, while the co-processor with a single Cortex-A55 core is on ambient, always-on duty.
This with the addition of an improved power management IC combines to a whopping up to 50 percent better battery life.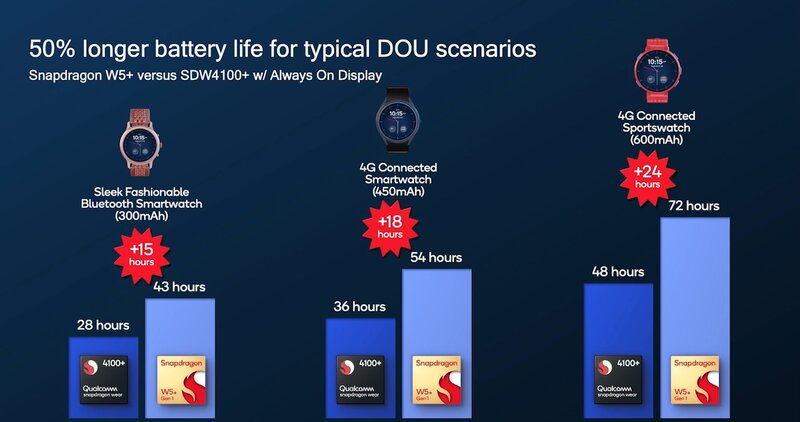 Snapdragon W5+ Gen 1 offers 50% better battery life in all form factors.
Improved performance
Pure horsepower comes from the SW5100, which has a similar quad-core CPU with Cortex-A53 cores as its predecessor, but at a lower 1.7 GHz clock speed. However, instead of the single Adreno 504 GPU of the last generation, there's two Adreno 702 GPUs.
The performance you lose on the CPU front, which are nigh nonexistent, are gained many times over by the major GPU upgrade.
Qualcomm says the performance has been doubled, although that's as far as the go about benchmarking. And to be fair, gaming isn't exactly the most popular use case for smartwatches.
This also leads us to believe that the gains are not necessarily always measured in speed or points, but rather in experiences that are more immersive, thanks to better graphics capabilities.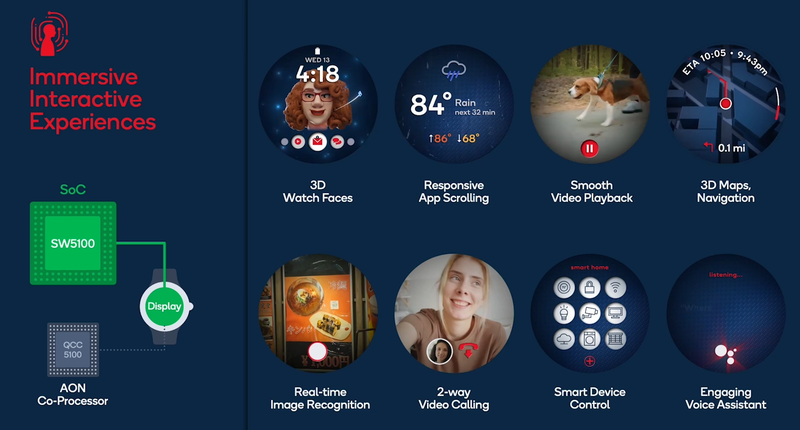 Better performance manifests in richer user experience.
The same goes for the new co-processor that makes sure that the always-on experience is more enjoyable with a dedicated audio unit for continuous music, ambient sensor data, always-on display, and more.
This allows things like acceleration and gyro data for sports apps, heart rate monitoring for health and wellness apps, and low-latency fall detection.
While these aren't necessarily all new features, they've been improved with the introduction of the more efficient and powerful hybrid chip design.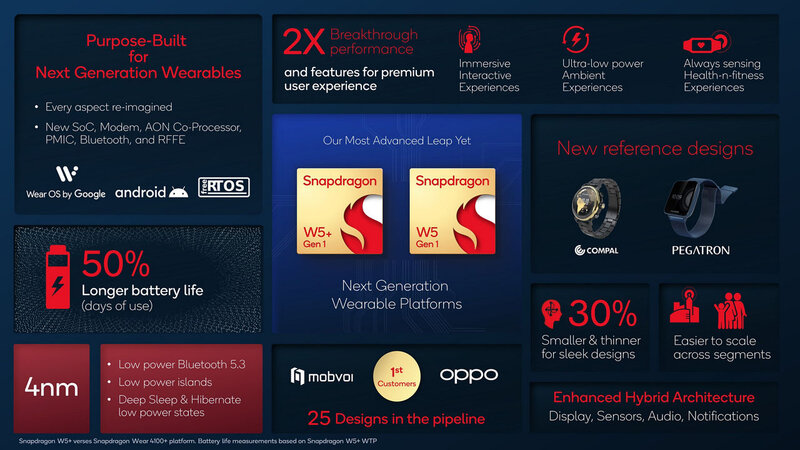 Summary of W5+ Gen 1 improvements.
The upcoming W5+ Gen 1 smartwatches
Snapdragon W5+ Gen 1 will be shipping to new smartwatches later this year, but what are those going to look like?
The PCB is 40 percent smaller and 30 percent slimmer, which means you are likely to see much sleeker Wear OS devices in the near future.
Snapdragon W5+ Gen 1 supports Bluetooth 5.3, which has lower power consumption, supports location and positioning data, and more security and less interference-prone connections. Also there's now support for WiFi and GNSS positioning.
Qualcomm has revealed that the first watches to feature the new chip are OPPO's Watch 3, due in August, and the successor to Mobvoi's TicWatch 3. There's at least another 23 smartwatches with Snapdragon W5+ Gen 1 currently in development, many of which will likely launch later this year or early next year.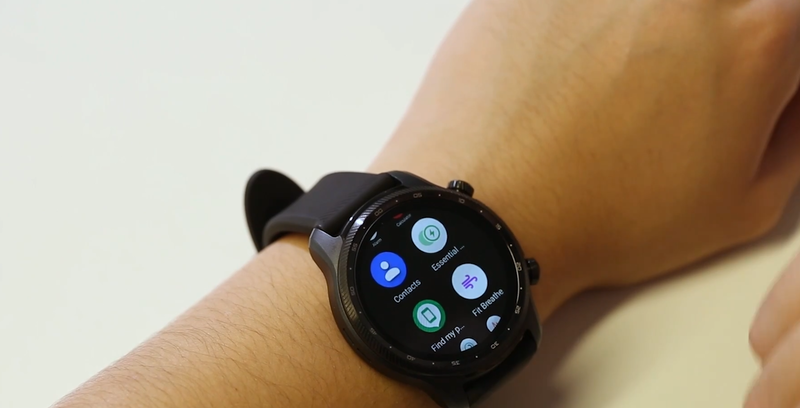 Written by: Matti Robinson @ 20 Jul 2022 13:15