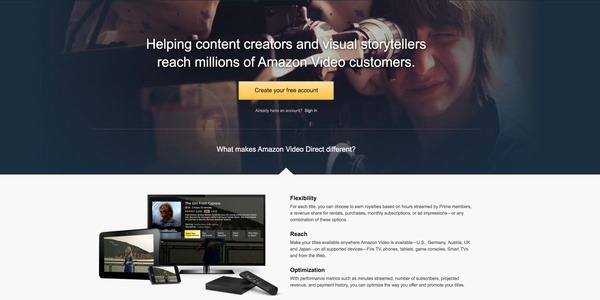 Amazon has announced Amazon Video Direct today, a service that will allow independent content creators to upload videos and get paid for it.
The service will compete with YouTube, and content creators will be able to pick how they get paid. Options include advertising revenue, royalties based on popularity, or through direct purchases or rentals on Amazon. They will also be able to collect royalties by making the content available to just Prime subscribers. Prime is Amazon's $99-per-year service that gives subscribers free 2-day shipping, free music and free streaming video through Amazon Instant.
Every month, Amazon will also give out $1 million total to the top 100 titles.
"Amazon will distribute to creators a monthly bonus from the one million dollar monthly fund, based on the Top 100 AVD titles in Prime Video, in addition to any other revenue earned. Video creators and providers who use AVD to make their titles available in Prime Video will automatically be enrolled. The AVD Stars program launches today and the one million dollar monthly fund will make its first bonus distributions based on streaming activity from June 1st to June 30th,"
says the company.
Launch content includes partners like Conde Nast Entertainment, HowStuffWorks, Samuel Goldwyn Films, The Guardian, Mashable, Mattel, StyleHaul, Kin Community, Jash, Business Insider, Machinima, TYT Network, Baby Einstein, CJ Entertainment America, Xive TV, Synergetic Distribution, Kino Nation, Journeyman Pictures, and Pro Guitar Lessons, added Amazon.
Source:
Amazon Video Direct
Written by: Andre Yoskowitz @ 10 May 2016 22:49